Who doesn't love a simple healthy dessert? Try this no-bake healthy peanut butter fudge recipe when your next sweet craving strikes!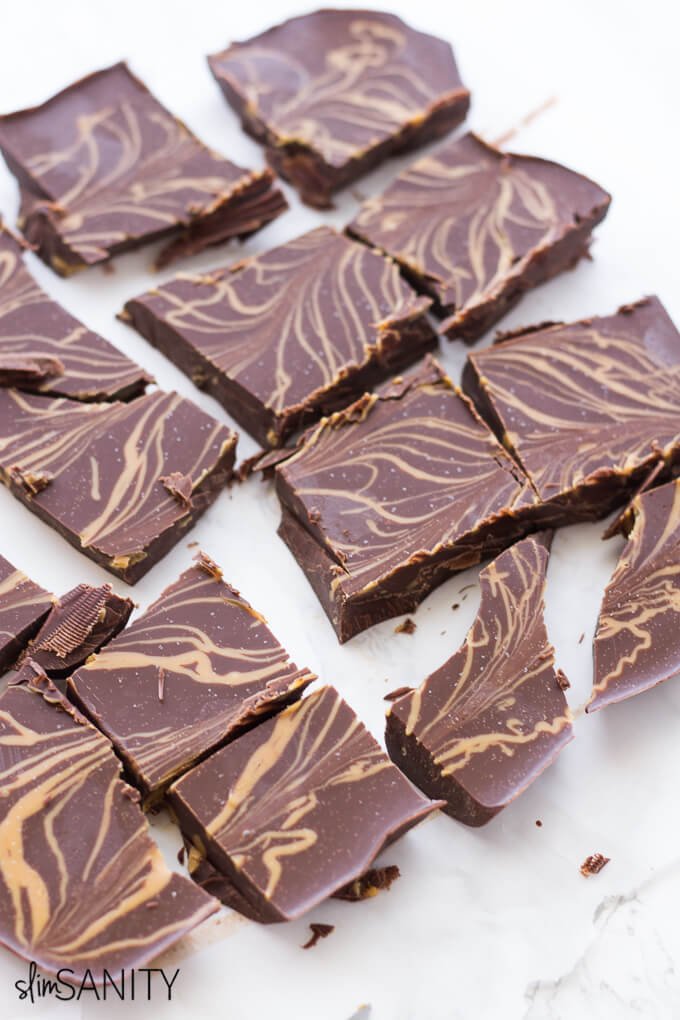 Whoa guys. I had time to blog.
YAY! 🙂
There still hasn't been any time spent in the kitchen, but I had a handful of recipes up my sleeve waiting to be edited and written, so HERE.I.AM. [Not] writing about no-bake healthy peanut butter fudge…While Brooklyn is sleeping/awake. Her awake time is hit or miss the last week on whether I can do anything except hold her precious little nugget self. And I suppose that's okay. The new me is trying really hard to roll with the punches as they come these days. Not that it isn't taking a lot of acceptance, prayer, and tears to figure it out. Being a mom is hard. Harder than being pregnant.
I probably should have read some parenting books to make up for my lack of knowledge about anything, baby, instead of deciding to 'wing it.' I figured intuition would be enough. As it turns out, the experience is about the only thing that really gets you through it. I've been leaning on our mothers, Kyle's sister, and my close friends for many of my 'WTF do I do' moments. And luckily for me, Kyle has had experience with babies before. Brooklyn is my very first real interaction with a baby since…ever. He's taught me quite a bit in this whole parenting process so far. I have also found that he's listened a lot better in any of our classes/pediatricians' appointments than I have to—serious #momfail on my part. However, I might blame exhaustion for all of that. That's fair.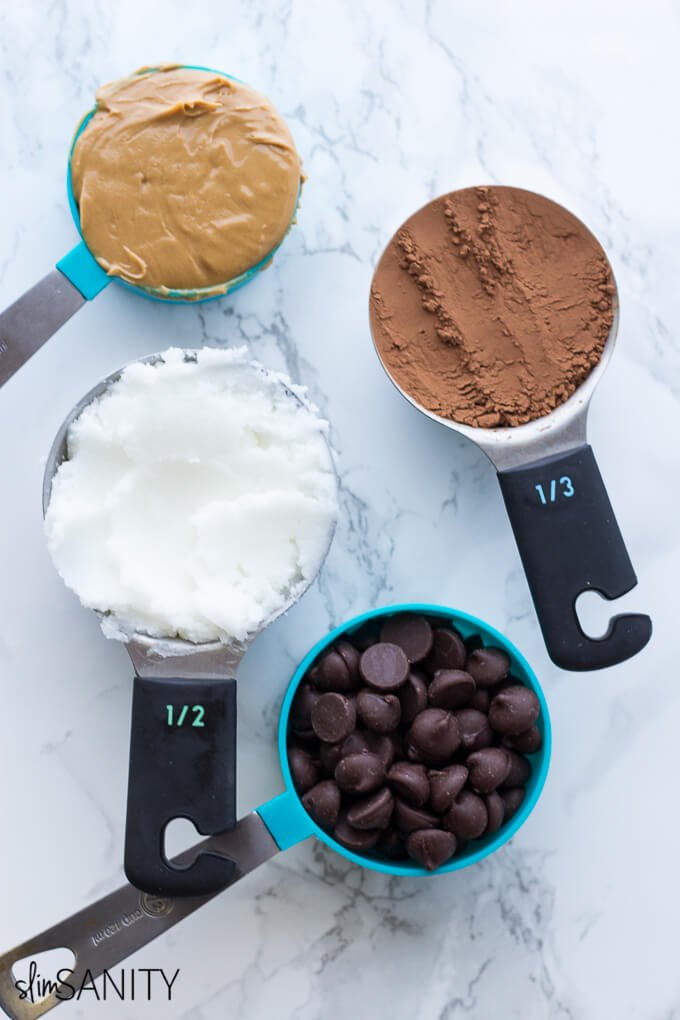 It's a good thing she's so damn cute…or you'd find me locked in my bedroom watching my Harry Potter DVDs eating a pan of this fudge. So far, I've only been watching Harry Potter, so I haven't completely lost my sanity yet. Although I have to say, Brooklyn is three weeks today, and I feel like I am starting to maybe, kinda, sort of, get the hang of this mom thing. Kyle and I are melding together all the advice and knowledge we have to find a parenting method that works best for us. AND my mom is coming into town today for the next nine days, and my sister and brother are flying in too, so I'll have plenty of help to get us through the one month mark. I am fairly confident that at that point, I'll be well on my way to feeling (more) confident.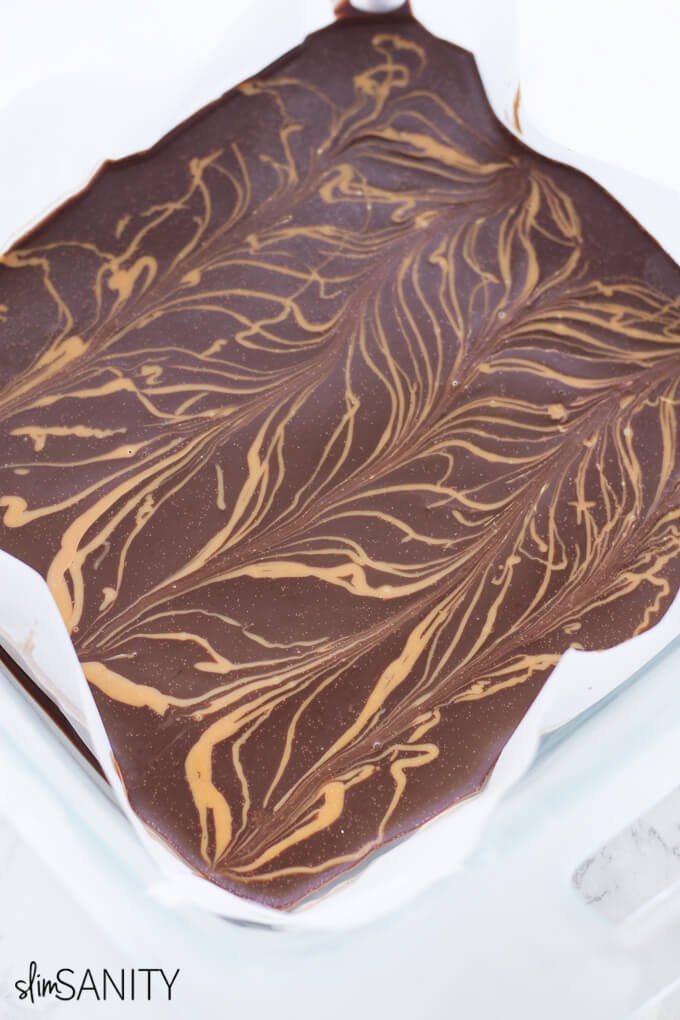 Enough about mom life for now…I'll fill you in on all the other juicy details at another time. Right now, I want to direct your attention back to dessert because of chocolate and peanut butter. Mixed in a bowl (with some other stuff) and dumped in a pan. Then placed in a freezer. Then viola! Dessert. Can it get easier than that?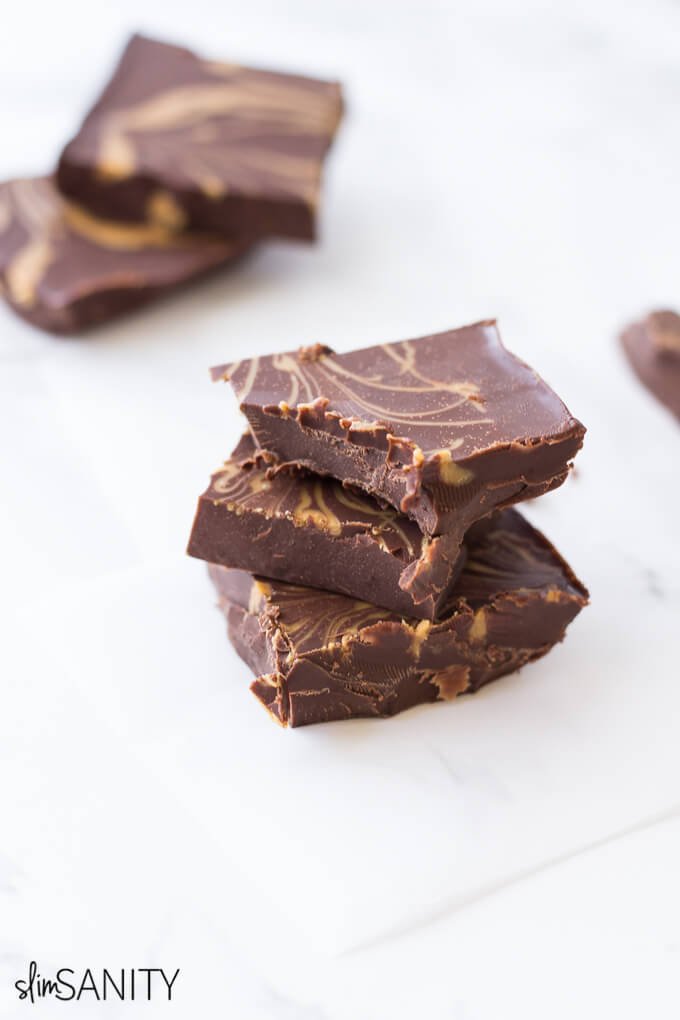 Maybe it could if you made something out of a box. But don't do that. Give this one a try instead!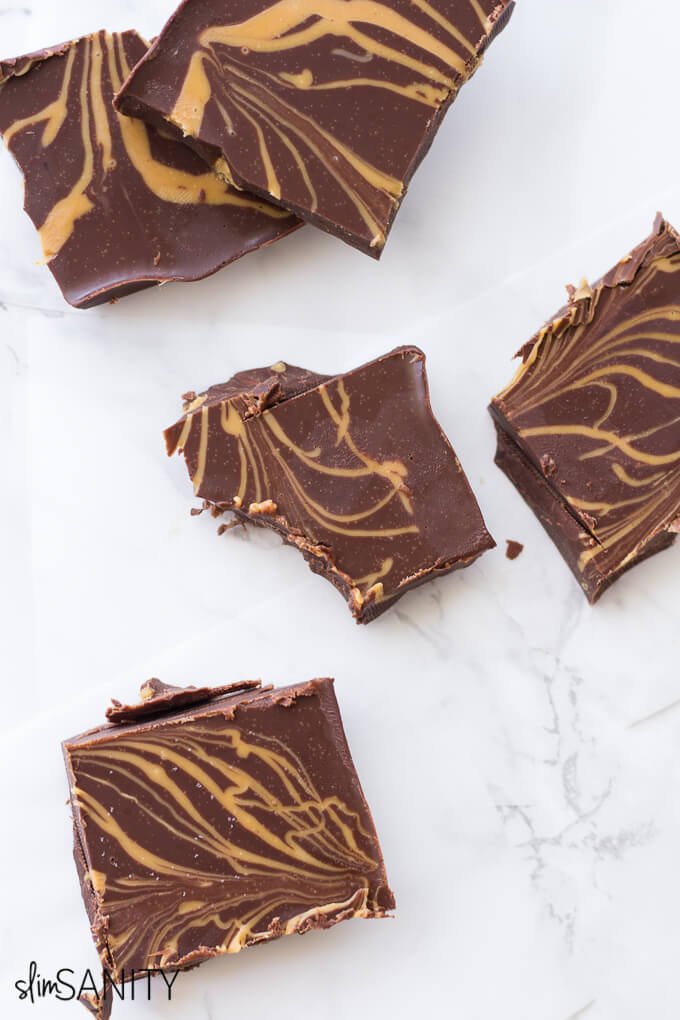 Print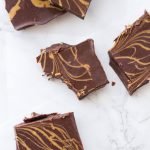 No Bake Healthy Peanut Butter Fudge
---
Author:

Total Time:

1 hour 15 minutes

Yield:

16

Bars

1

x
Description
Who doesn't love a simple healthy dessert? Try this no-bake healthy peanut butter fudge recipe when your next sweet craving strikes!
---
½ cup

dark chocolate chips

⅓ cup

peanut butter

½ cup

of coconut oil

⅓ cup

cocoa powder

2 tablespoons

peanut butter
---
Instructions
Add chocolate chips to a microwave-safe bowl, and microwave for 30 seconds. Stir to start melting.
Add peanut butter, and microwave additional 30 seconds. Repeat until chocolate chips are melted. Add coconut oil, then microwave additional 30 seconds.
Stir until completely mixed, then stir in the cocoa powder.
Pour mixture in a glass pan. You can line the pan with parchment paper for easier removal of the pieces, but this is optional.
Melt additional tablespoons of peanut butter, and drizzle in lines in the fudge mixture. Drag a knife across the peanut butter lines to make the pattern on top.
Freeze for about an hour. Remove from fridge, let thaw a few minutes then cut or snap into pieces.
Prep Time:

1 hour 15 mins

Category:

Dessert
Nutrition
Serving Size:

1 bar

Calories:

145

Sugar:

5 g

Sodium:

40 mg

Fat:

13 g

Saturated Fat:

8 g

Unsaturated Fat:

0 g

Trans Fat:

0 g

Carbohydrates:

7 g

Fiber:

2 g

Protein:

2 g

Cholesterol:

0 mg