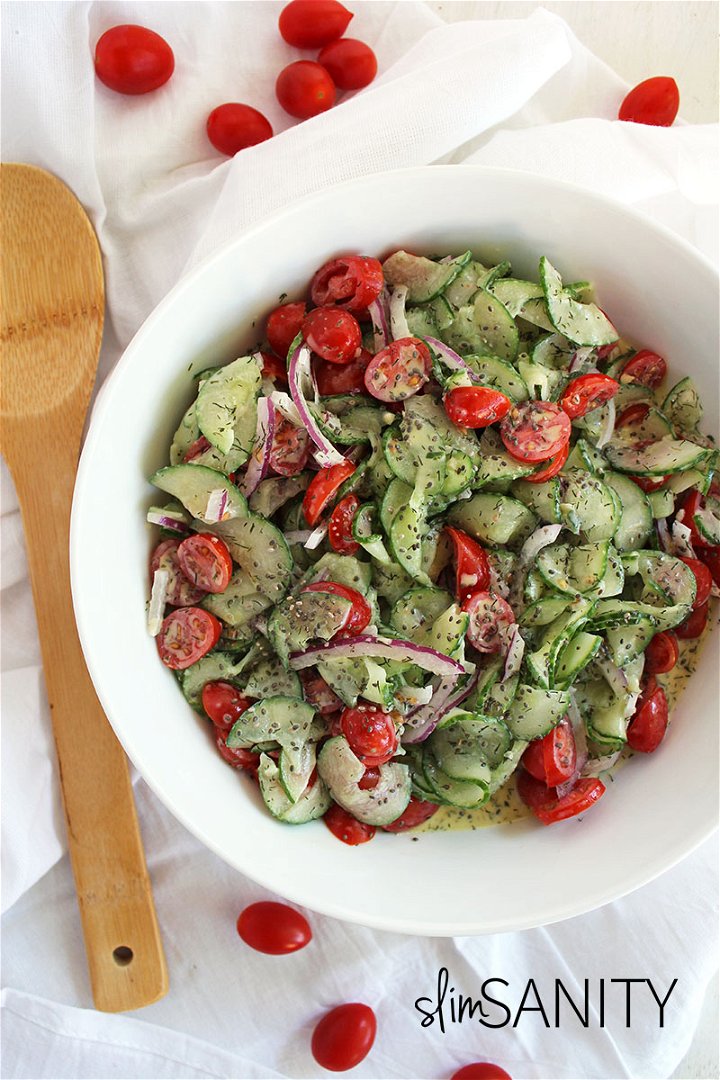 I had full intentions this summer to come up with an array of fun salads.
But then we stopped eating pasta on a regular basis, we didn't have many cookouts, and summer is, like, already over. I know it's cliche to talk about how fast time has gone…but holy cow. How is it seriously already, August? I swear I went through a time warp or something. Because just like that, there are three weeks until September, and I've only pumped out one summer salad recipe.
what to make with cucumbers?
At least cucumber salad recipe with dill dressing is a good one!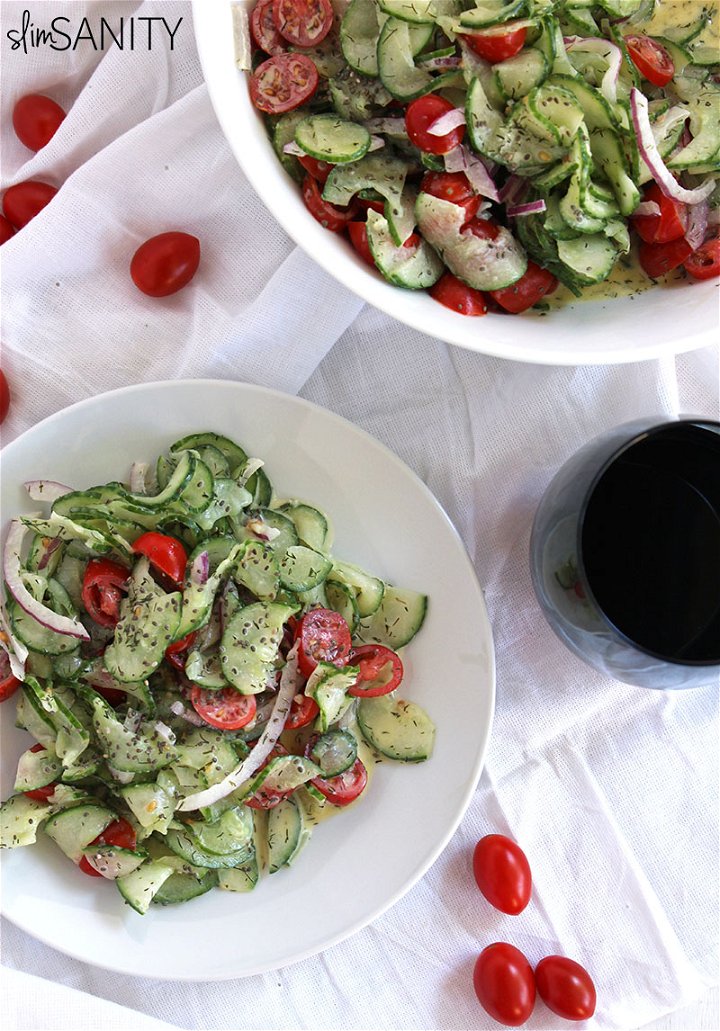 I've been in a love/hate relationship with cucumbers my whole life. Mostly in the hate stage. Soooo I know hate is a strong word. We'll go with distaste instead. My parents used to eat cucumbers and tomatoes with just salt and pepper, and I wanted to gag. Cucumbers were food I avoided at all costs. I even took them off my Jimmy John's tuna sandwiches. It makes me really sad looking back on it!
Somewhere around the time, I started this blog; I decided to give cucumbers another chance. For the most part, they were agreeable to me. Mostly…but only when slathered in hummus or black bean dip. Which is a step in the right direction that should make anyone proud! But in the last few months? I've been loving cucumber, even without the mounds of dip.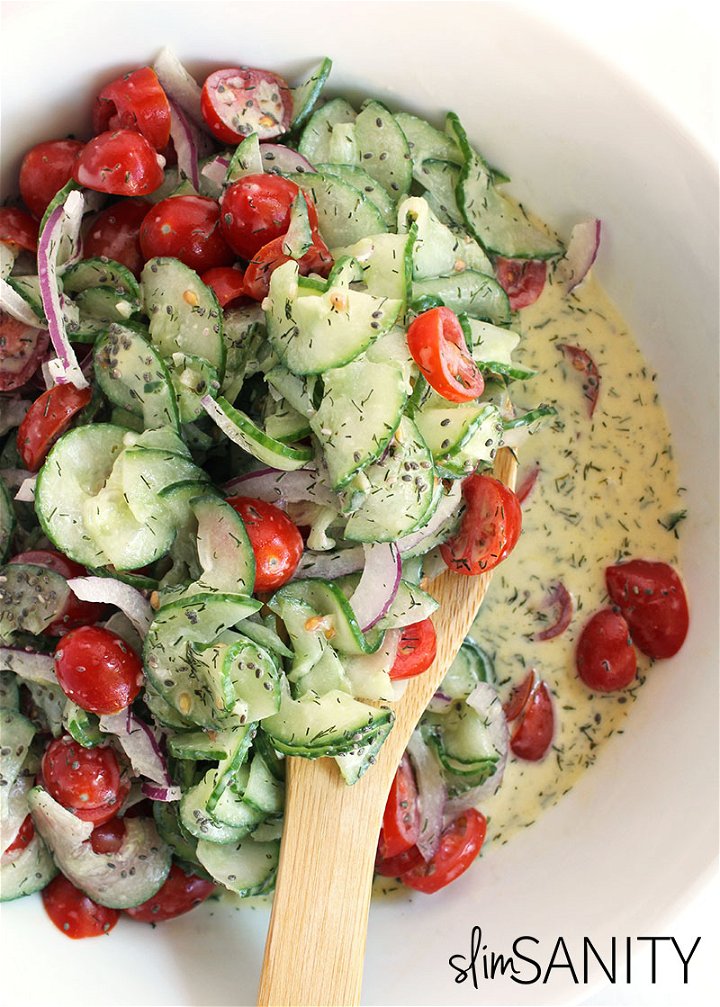 I don't quite remember what inspired me to craft this recipe, other than my desire to pack more veggies, Ito, my life. (I think I'd make Jenn super proud.) My goal was to make this Paleo, but I failed miserably at finding the base for my dressing, which was pasteurized eggs. It's pretty easy to whip up a Paleo dressing with eggs and olive oil, but the recipe calls for raw eggs, so pasteurized is the safe way to go. After striking out at three groceries, I settled for my other favorite creamy ingredient, Chobani Greek yogurt! Cho-yo never disappoints.
Actually, I was probably inspiralized to make this salad. I've wanted to spiralize ALL the things these days! And I hadn't used my ribbon blade yet. The English cucumbers I had in the fridge were a perfect opportunity. The one trick to spiralizing veggies for a salad like this—you need to chop your ribbons before mixing them in. Long cucumber ribbons are a tad difficult to eat!
If you don't have a spiralizer, don't worry about it. You can make this salad just as tasty with sliced cucumbers. However, it might not be quite as fun!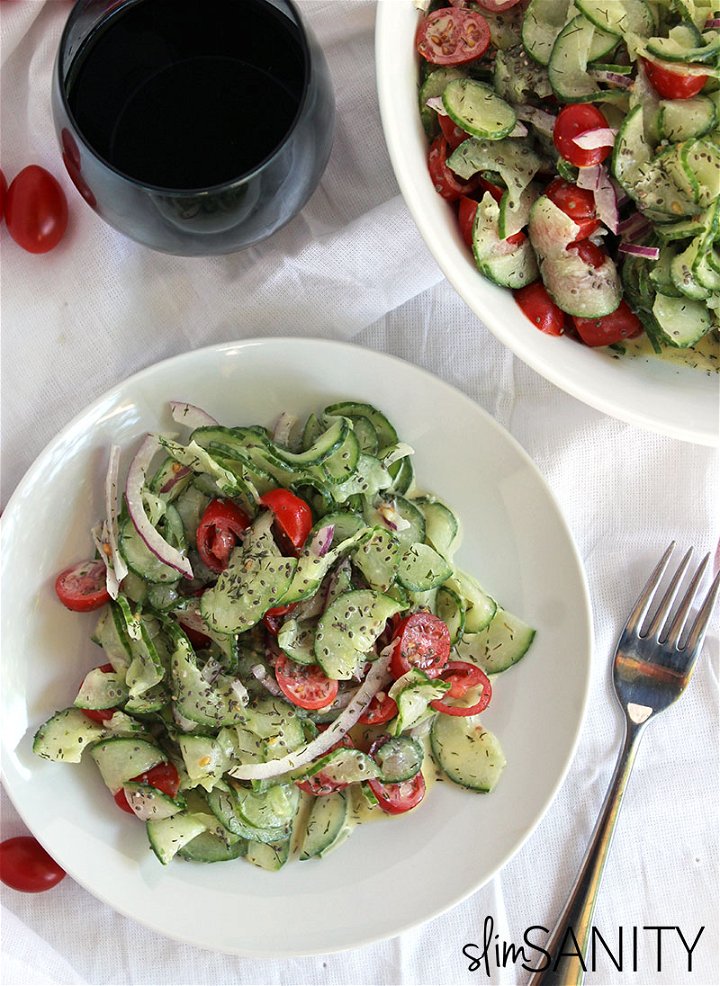 Print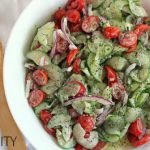 Cucumber Salad With Dill Dressing
---
Author:

Total Time:

10 minutes
Description
what to make with cucumbers?
At least the cucumber salad recipe with dill dressing is a good one!
---
½ cup

Chobani non-fat Greek yogurt

6

T extra virgin olive oil

2 teaspoons

dried dill

1 teaspoon

minced garlic

¾ teaspoon

garlic salt
salt and pepper to taste

2

English cucumbers

1.5 cups

cherry tomatoes

½ cup

red onion
---
Instructions
To make the dressing: In a bowl, mix together Greek yogurt and olive oil completely. Mix in dried dill, garlic salt, and minced garlic.
Spiralize cucumbers and add to bowl. Thinly slice the cherry tomatoes and red onion, and add into bowl. Stir to completely cover in dressing.
Let salad sit in fridge overnight, or at least 3-4 hours. Season to taste with salt and pepper before serving.
Notes
The dressing makes a large quantity. You could easily add more cucumbers and veggies to the mix.
You can also optionally top the salad with chia seeds!
Prep Time:

10 mins

Category:

Sides