Follow my blog with Bloglovin'
In an attempt to eat more green foods, I tried some experiments.
Experiment 1: Creamy Green Veggie Pasta Sauce. Success!
Experiment 2: Out of asparagus, sub in avocado. Also out of pasta… sub in brown rice.
Another success.
Green is a great experimental color, don't you think? So many options! Here's what I went with.
Avocado Rice with Shrimp
Ingredients
1/3 cup Greek yogurt
1/4 cup avocado
1 cup spinach
splash of almond milk (~ one tablespoon)
1/2 teaspoon basil
1/4 teaspoon garlic powder
salt and pepper to taste
1 cup cooked brown rice
10-15 cooked, shelled, deveined shrimp
1 clove garlic, minced
EVOO
Instructions
In a skillet over medium heat, saute shrimp with minced garlic. Season to taste with pepper.
To prepare green sauce, blend the Greek yogurt, avocado, spinach, almond milk, basil, and garlic powder. Season to taste with salt and pepper.
Mix green sauce with brown rice, heat together in a sauce pan if rice isn't hot.
Layer avocado rice with shrimp.
Garnish with something pretty.
I actually
did
 eat this on a Wednesday. Along with all of the following.
[breakfast] 3 egg white scramble with the last of my asparagus, black beans and spinach. Serve with 2 pieces of wheat toast and Laughing Cow [snacks] lots of cantaloupe lately [lunch] chicken, avocado, and spinach over brown rice (sound familiar? someone needed to go grocery shopping!) [snack] Mission's Artisan Whole Wheat tortilla with a Laughing cow, red onion, red pepper, and spinach.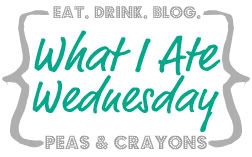 Happy What I Ate Wednesday!