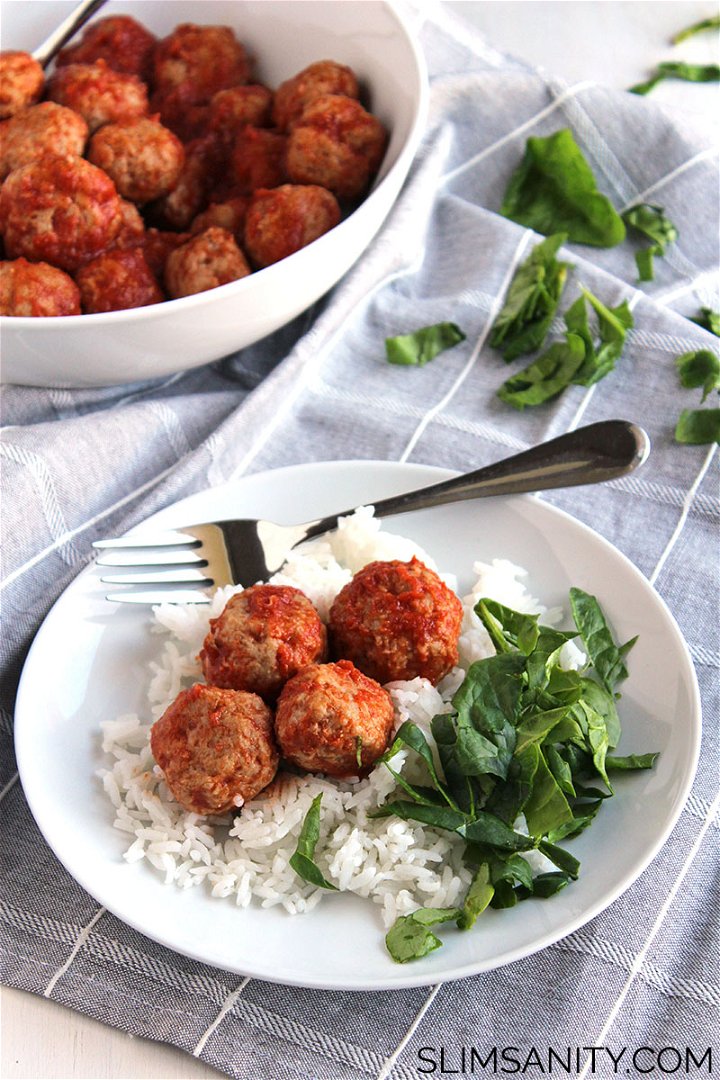 Kyle and I have this habit of watching weird TV shows before bed.
Weird like zombies and vampires – stuff you probably don't want to be dreaming about. The Walking Dead has been the reigning choice in the last few weeks because it's our current Netflix obsession.
I should say that we don't have this habit – I will take the blame for influencing our Criminal Minds benders before crawling into bed to get a good night of sleep. If Kyle had the choice, it'd be New Girl or How I Met Your Mother on repeat. But for some reason, I can't enough of those dark and dreary shows like The Vampire Diaries (ok, maybe not so dark and dreary) and Dexter.
And TWD really has been showing up in my dreams lately. Like, zombies galore. I'm pretty sure I could be prepared for the zombie apocalypse now after how many times I've battled them in my sleep.
Not that I'm going to be stockpiling canned goods in the preparation or anything. We are going to the shooting range next weekend, though. That's only because we haven't shot the guns yet the Kyle gifted himself for Christmas. Do you think they have targets that look like zombies?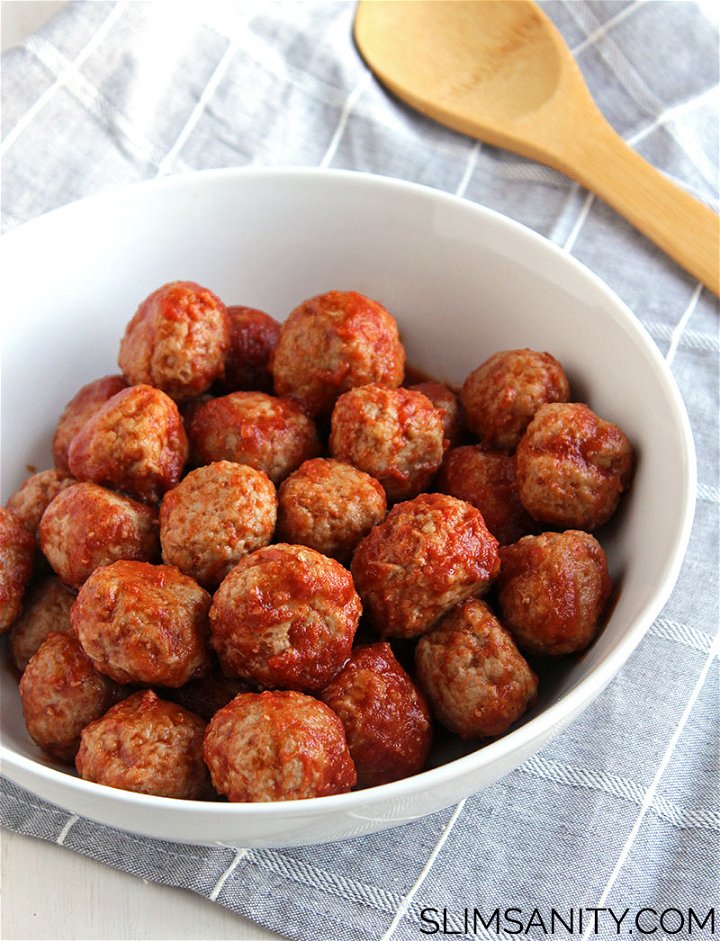 The saddest part about any not-likely-to-happen-apocalypse would be the whole lack of electricity thing. If I were preparing for an apocalypse, I would invest in solar panels because it'd be really, really hard to food prep without my crockpot. And, they're good for the environment. 🙂
Sidenote: Do you spell crock pot in one word or two? I guess technically; it's crock-pot since that is the actual brand name. But who calls it a slow cooker? I never do!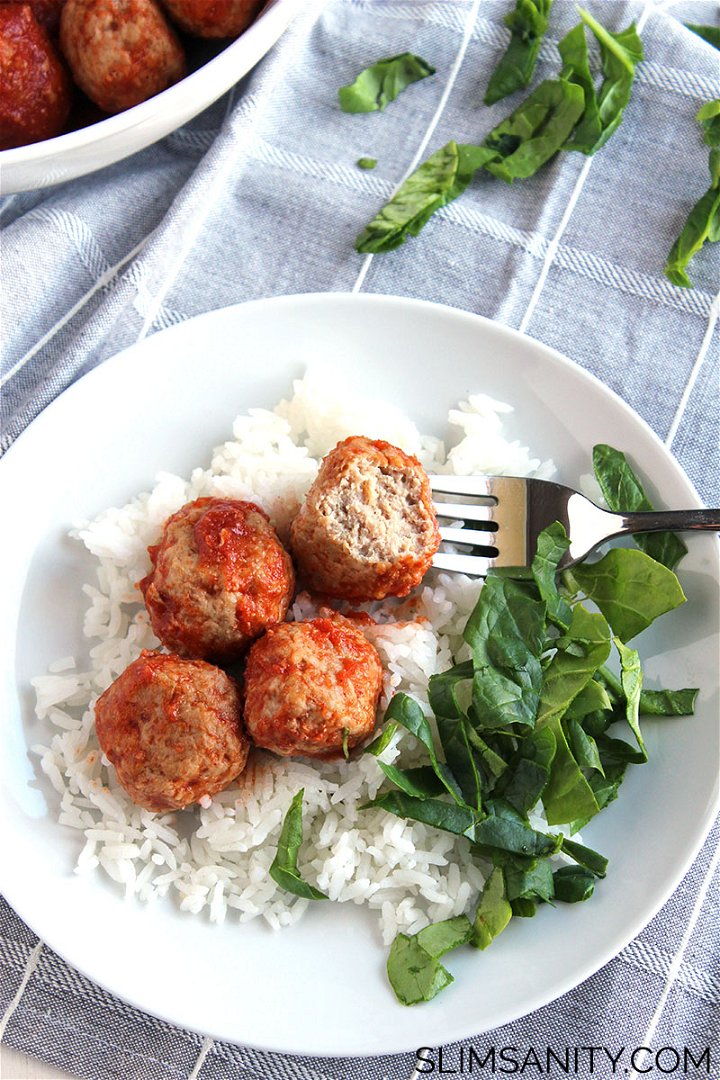 These tangy crockpot turkey meatballs are the perfect appetizer to bring to parties. I made them several times during football season this year…and somehow failed to get them posted when it actually was football season. #fail The tangy sauce was one we came up with several years ago, and I resurrected the hidden ingredients from a post long ago. We learned one very important thing in this recipe – the garlic salt CANNOT be substituted for garlic powder. You really need the salt in this one!
These are also a great option for prepping lunches or dinner! Pair them with some spinach, jasmine rice, or pureed cauliflower, and you're golden!
I based the meatball recipe on my turkey spinach meatballs, minus the spinach. You could use frozen meatballs if you wanted – but mine is pretty bomb, so you should give 'em a shot!
Make it Paleo: Skip the breadcrumb for almond meal and make your own Worchestershire sauce.
Print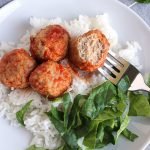 Tangy Crockpot Turkey Meatballs
---
Author:

Total Time:

2 hours 30 minutes

Yield:

32

meatballs

1

x
Description
These tangy crockpot turkey meatballs are the perfect appetizer to bring to parties. I made them several times during the football season.
Total recipe cost: $6.73 Cost per serving (4 meatball serving): $0.84
---
For meatballs
1.5

pounds ground turkey (93/7) – $4.55

1

egg – $0.17

½ cup

panko breadcrumbs – $0.25 (or coconut flour for Paleo)

¼ teaspoon

cayenne or

½ teaspoon

chili powder – $0.02

½ teaspoon

garlic salt – $0.15

½ teaspoon

onion powder – $0.15
For sauce
2 tablespoons

Worcestershire sauce – $0.33

2 tablespoons

white vinegar – $0.06

1 cup

tomato sauce (I used salt-free organic) – $0.57

2.5 tablespoons

agave syrup or honey – $0.68

½ teaspoon

onion powder – $0.15

½ teaspoon

garlic salt – $0.15

½ teaspoon

chili powder $0.05
---
Instructions
Preheat oven to 350 degrees.
Mix the first 6 ingredients together in a bowl. Spray a baking sheet or pan, and roll meat into 1 inch sized balls. Should make about 30-34 meatballs.
Bake for 20 minutes. Remove from oven and set aside.
Add remaining ingredients to a crock pot, and stir together completely. Add meatballs, and stir to completely cover.
Cook on low for 2 hours.
Prep Time:

30 mins

Cook Time:

2 hours

Category:

Appetizers & Dips, Crock pot
Nutrition
Serving Size:

1 meatball

Calories:

58

Sugar:

2 g

Sodium:

133 mg

Fat:

3 g

Saturated Fat:

1 g

Unsaturated Fat:

0 g

Trans Fat:

0 g

Carbohydrates:

3 g

Fiber:

0 g

Protein:

4 g

Cholesterol:

21 mg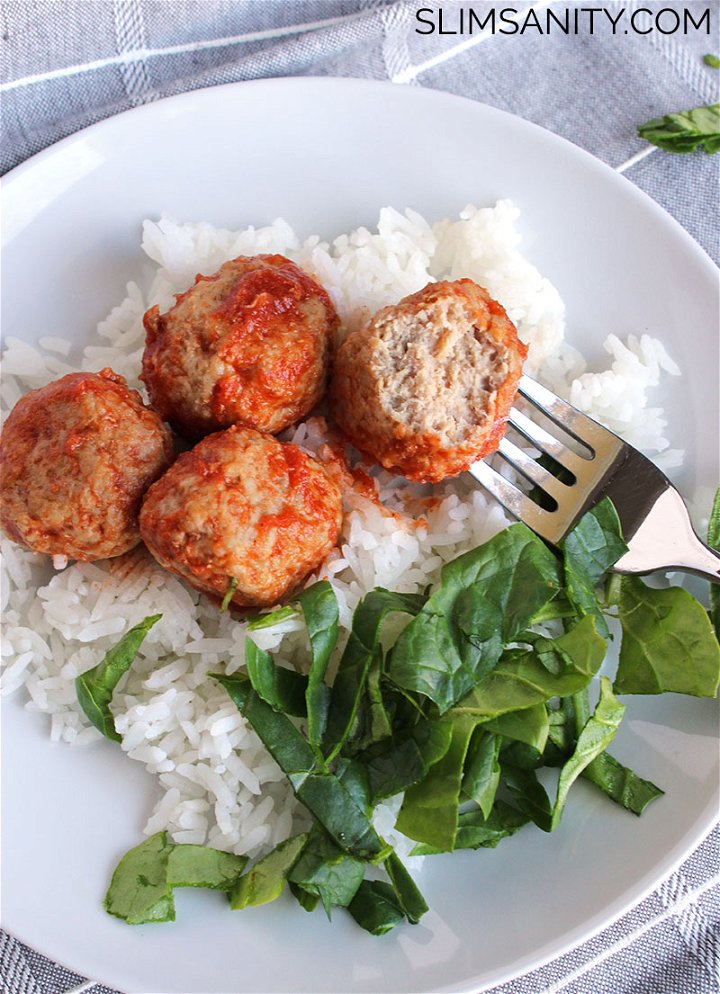 WHAT'S YOUR FAVORITE TV SHOW? COULD YOU SURVIVE WITHOUT ELECTRICITY?