Follow this blog with Bloglovin'
So, I promised you guys a recipe yesterday. This is a great one for sandwiches, pasta, mashed cauliflower, rice… or just a plain old snack. Today, I bring you turkey spinach meatballs.
They were part of my Wednesday meal last week! Check out What I Ate (Last) Wednesday! Or was it Tuesday?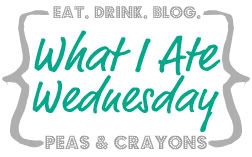 Head on over to Jenn's page for more link-ups!
[breakfast]
the
best breakfast tacos ever
[breakfast 2]
smoothie with blueberry, frozen banana, and vanilla protein powder
 [snack 1]
whole wheat English muffin with 1 tablespoon of PB
[snack 2]
 cantaloupe and watermelon
[lunch]
veggie packed tuna salad
[dinner]
turkey spinach meatballs with
mashed cauliflower
and avocado.
So much delicious. Makes me hungry.
Okay, so the meatball recipe. It was actually part of a series I did for Nut Butter Runner on healthy appetizers. Here it is!
Spinach Stuffed Turkey Meatballs
Yield 20 meatballs
Ingredients
20 oz lean ground turkey (I use 93/7)
1 cup spinach, chopped
1 egg
½ cup panko
¼ teaspoon cayenne
½ teaspoon garlic salt
½ teaspoon onion powder
salt and pepper to taste
Instructions
Preheat oven to 375 degrees.
Mix all ingredients together in a large bowl.
Form small meatballs, approximately 20 in total. Place on a baking sheet or pan.
Bake for 20-25 minutes until cooked through.
Courses Dinner
Nutrition Facts
Serving Size 1 meatball
Amount Per Serving

Calories 54

% Daily Value

Total Fat 2 g

3%

Cholesterol 29 mg

10%

Sodium 91 mg

4%

Total Carbohydrates 2 g

1%

Dietary Fiber 2 g

8%

Protein 6 g

12%
* Percent Daily Values are based on a 2,000 calorie diet. Your daily values may be higher or lower depending on your calorie needs.
These lasted 4-5 meals, and were just as delicious reheated! Definitely my favorite meatball recipe to date.
Happy What I Ate Wednesday!