Follow this blog with Bloglovin'

A good indication of a well balanced meal is lots of color. To get all that color on your plate, you need to be eating lots of fruits and vegetables! I suppose you could also pour yourself a bowl of M&Ms… but that's not typically the thing I'd promote. For breakfast. Unless it's your birthday, then I think you're allowed to do whatever you want.
But let's be serious here. Skip the M&Ms and make these spinach protein pancakes instead! Then cover them with berries and banana.
It's a super simple recipe, which is key to getting out the door most mornings. I think you could prep this batter the night before and have it be ready for pancakes in the morning, however I wouldn't let it sit longer than one night in the refrigerator.
Spinach Protein Pancakes
Yield 1
Ingredients
1/3 cup cottage cheese
3 egg whites
1/3 cup old fashioned oats
1/3 scoop protein powder
1 cup spinach
honey, berries and banana to top
Instructions
Blend all ingredients together.
Heat a skillet over medium heat. Spray with non-stick cooking spray, and pour batter onto skillet.
Cook for 3 minutes on one side and flip. Cook additional 2-3 minutes.
Serve with fruit and a drizzle of honey!
Courses Breakfast
As for the rest of my eats, here is (most of) What I Ate Wednesday! I seem to have forgotten most pictures of snacks lately, although they are usually the same. Sweet potatoes, yogurt bowls, carrots and hummus…. so just imagine 3 or 4 of those along with my meals!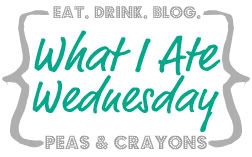 Lunch was a Romaine salad with chicken, avocado, bell peppers, black beans and Feta crumbles. I've been craving the crunch of Romaine with salads lately, and it's been delicious! Might have to keep it around for a while.
Dinner  was a favorite and requested by the man. My healthy turkey meatloaf is always delicious! I'm pretty sure I added another slice of meatloaf on top of this before I dug in, because I realized it was no where near enough to fill me up.
My main meals for the day all involved a lot of green!
_
Tell me…
>What's your favorite color food? Green is probably mine!