Follow my blog with Bloglovin'
This poor recipe got bumped a few times, but finally made its way into our oven on Sunday night. It's a recipe Kyle's mom has made in the past. We've made it once before, but it was a long time ago. It worked perfectly, since we tend to love having pizza on Sunday nights!
Before we get to this recipe, let's review What I Ate Wednesday Sunday!
Breakfast was a nice batch of protein pancakes.
This is actually a picture from my pancakes on Monday, but they looked about the same!
The batter was made by blending 3 egg whites, 1/3 cup oats, 1/5 scoop vanilla protein powder, and 1/3 cup cottage cheese. Topped with banana, coconut, and honey!
I worked until almost 1:00 PM on Sunday without the availability of snacks, so I came home and made a delicious sandwich for lunch.
Whole wheat toast, a wedge of Laughing Cow Garlic & Herb, spinach, turkey, fried egg, and avocado. Quite the monster of a sandwich!
There was mostly laying around the rest of the day, and no food until dinner!
Bubble-up Pizza
Ingredients
1 16 oz package of buttermilk biscuits (we used reduced fat)
2 8 oz cans of tomato sauce
3.5 oz turkey pepperoni, cut in half
8 oz ground turkey (93/7)
5.75 oz can of black olives, sliced
1/2 red pepper, diced
1/2 yellow pepper, diced
1/2 green pepper, diced
3 mushrooms, diced
3 cups part-skim shredded mozzarella cheese
1 clove minced garlic
1.5 tablespoons basil
1.5 tablespoons oregano
1.5 teaspoons garlic powder
1/2 teaspoon garlic salt
Instructions
In a skillet over medium-high heat, brown ground turkey. Season with 1/2 tablespoon basil, 1/2 tablespoon oregano, 1/2 teaspoon garlic powder. Drain and set aside.
In a small bowl, pour in tomato sauce. Add 1 tablespoon basil, 1 tablespoon oregano, 1 teaspoon garlic powder, 1/2 teaspoon garlic salt. Set aside.
Preheat oven to 375 degrees.
Cut the biscuits into 1 inch pieces. Place into a large bowl, and press in the minced garlic.
Add 1 cup of sauce, along with all of the meat, veggies and 2 cups of cheese ('toppings'). Mix together well. Easiest if you use your hands!
Pour mixture into a large baking pan that is sprayed with non-stick cooking spray. Pour 1/2 cup of sauce over the top. Sprinkle on the last cup of cheese.
Bake for 30-40 minutes, until biscuits are cooked all the way through.
Let sit about 5 minutes before serving.
Courses Dinner
There is no better cheat meal than pizza in my book!
Well, maybe ice cream.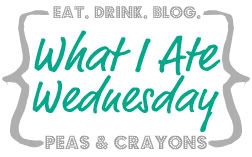 Happy What I Ate Wednesday!