I really like routines. I've always been a planner, and there has always been at least three different lists in my purse or smart phone since I can remember.
I like the structure. Knowing what I'm going to do each day. And I like to stay busy. I really enjoy having something to do – and I usually have to plan days to BE. You know, all day watching Netflix kind of days. They usually only happen after I've already had a couple of hours of keeping busy crossing things off my lists.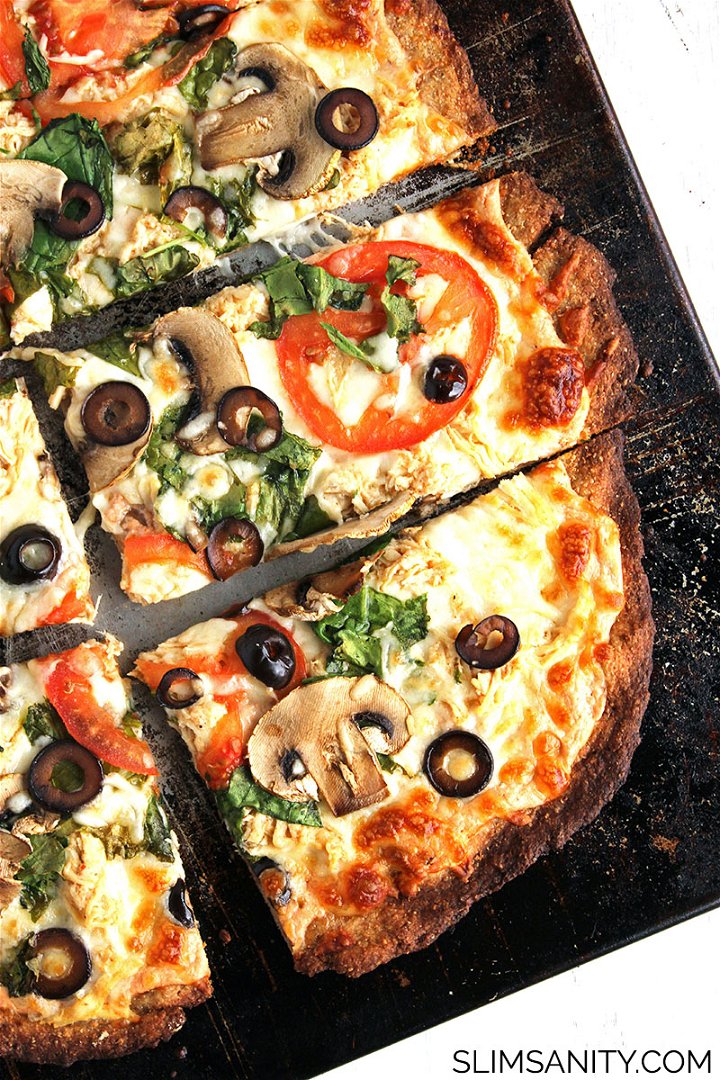 Keeping busy usually keeps me going. It will energize me, and I'll thrive off having 1000 things to do. At least, I used to think that's what it did. Now, I think it's driving me crazy. While in the midst of my career conundrum, I grasped every opportunity within my reach to keep myself busy in the hopes I'd discover what it was I really wanted to do for the rest of my life. Perhaps I'd make some extra money in the process.
Now I think I've spread myself too thin, having to think about too many things at once. Some things feel more like chores now, rather than the hobby I once enjoyed. Now that I'm getting closer to making some real career choices, I recognize that I need to cut out these extra activities to make myself feel more whole.
In all of my responsibilities I've created for myself, I don't want to lose track of what is truly important to me. I'll be making some changes soon when I make some official decisions about what I want to put on the chopping block.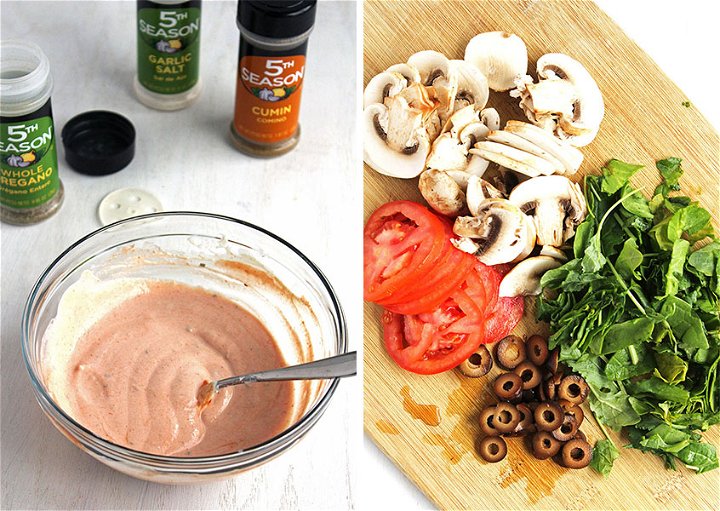 One thing I will always put on the chopping block? Mushrooms. And any assortment of veggies for pizza toppings.
Mediterranean pizza recipe is another example of a routine that serves a great purpose. Routines and systems should make life easier. And having healthy pizza recipes that we make every.single.weekend. This means we spend less time agonizing over what we're going to make for dinner on the weekend and more time taking our dogs for a walk. Or having a stimulating intellectual conversation. I'll let you guess which happens more often in our household! 🙂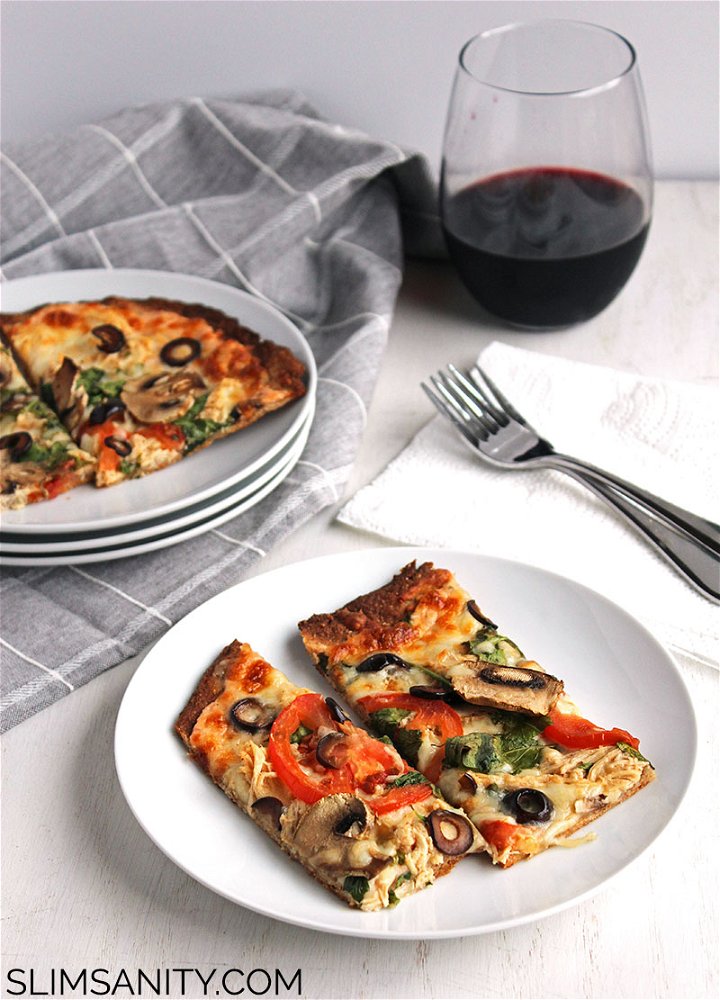 Although there are some uncertain things in life, these will always ring true.
I will never stop food blogging. (For the foreseeable future,)
And I will never stop making Mediterranean pizza.
Print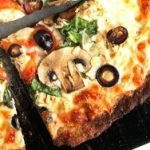 Thin Crust Mediterranean Pizza
---
Author:

Total Time:

32 mins

Yield:

10

pieces

1

x
Description
Find the best thin crust mediterranean pizza recipe and best for ultimate easy fresh family dinner that everyone will love to eat.
---
1¼ cup

whole wheat flour

½ teaspoon

instant yeast

½ cup

hot water
honey
salt
EVOO

½ cup

non-fat Greek yogurt

2 tablespoons

tomato sauce

1 tablespoon

EVOO

¼ teaspoon

cumin

¼ teaspoon

garlic salt

¼ teaspoon

oregano

1½ cup

shredded mozzarella

1 cup

sliced mushrooms

¼ cup

olives, chopped

1

handful spinach, chopped

½

roma tomato, sliced

4 oz

shredded chicken
---
Instructions
Preheat oven to 425 degrees.
In a large bowl, mix together flour, yeast, and salt.
Swirl honey over the top of flour mixture. Add hot water. Mix together completely with a fork, and form into a ball, either with hands (if not too sticky) or a fork. Let sit for 10 minutes, covered with a towel.
Swirl EVOO over the top of the yeast, and remove from bowl. Spread thinly with hands on a sprayed baking sheet. Bake in oven for 5 minutes.
Remove crust from oven and set aside.
To make sauce, mix together Greek yogurt, tomato sauce, 1 T EVOO, cumin, garlic salt and oregano. Spread onto crust.
Layer crust with cheese, chicken, and veggies. Cook for additional 12 minutes until cheese begins browning in center of pizza.
Let cool 3-5 minutes before serving.
Prep Time:

15 mins

Cook Time:

17 mins

Category:

Dinner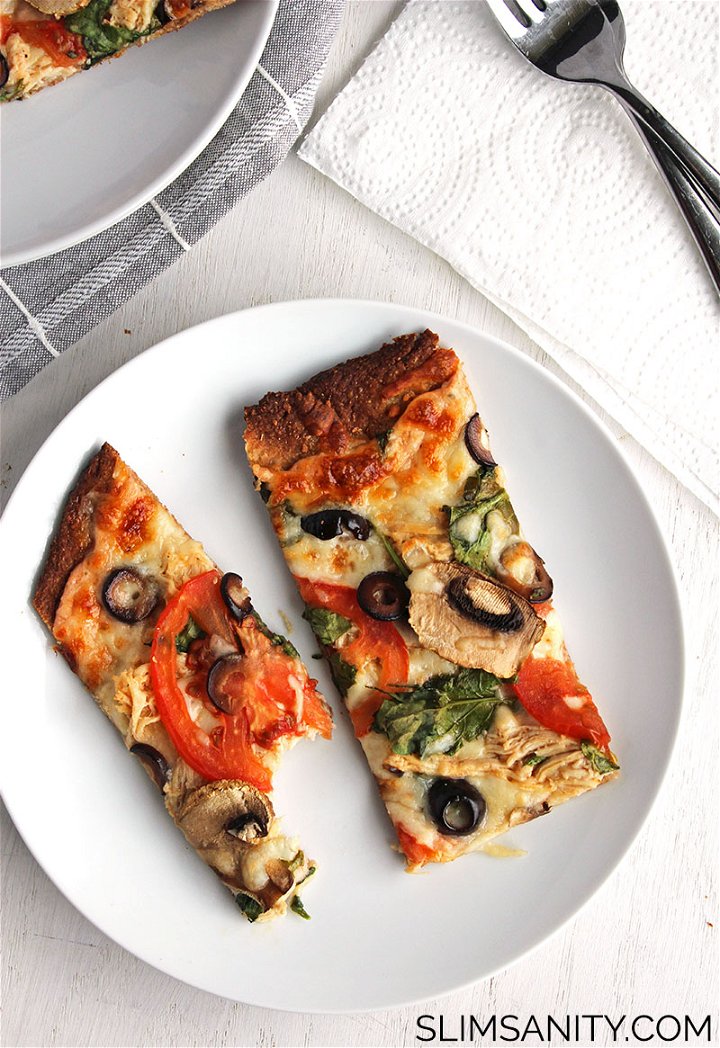 HAVE YOU HAD TO PUT ANYTHING IN LIFE ON THE CHOPPING BLOCK RECENTLY? WHAT DID YOU BREAK AWAY FROM?