Almond crusted chicken with lemon zucchini noodles is a delicious dinner dish with a gourmet feel you can prepare in 20 minutes or less!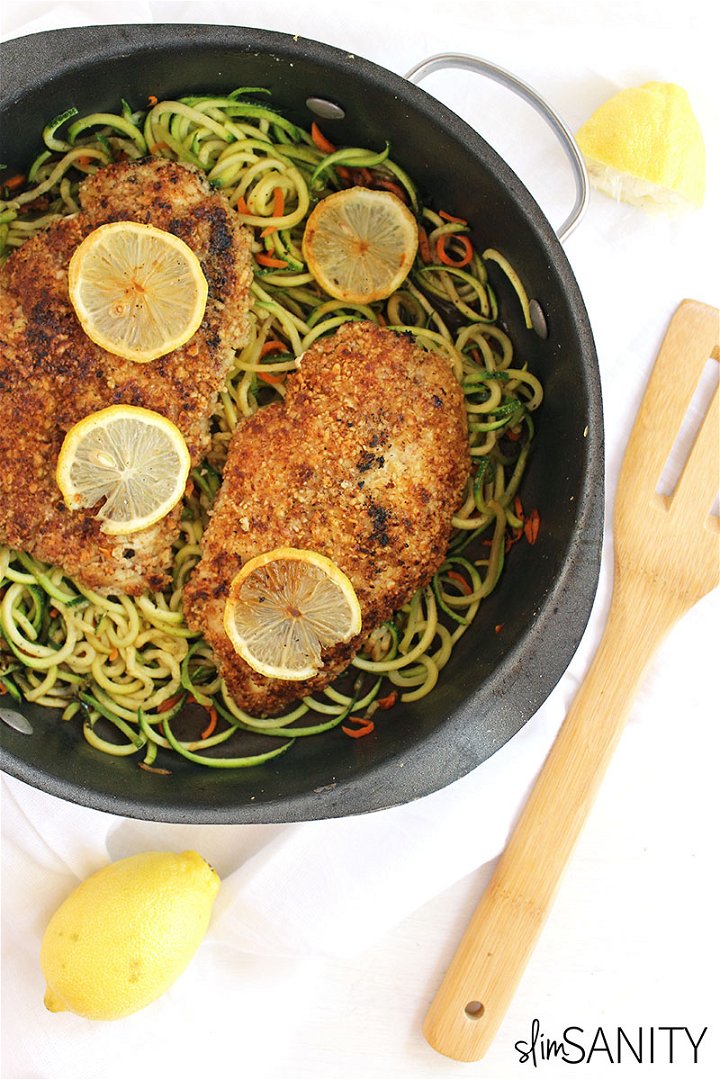 Before I talk too much about how delicious this recipe is, I need you to mourn with me for a second.
I lost a camera lens in a tragic accident this weekend. 😢
Let me paint this awful picture for you. I had set my camera down on a TV stand. The camera had its strap attached to it. It was draped over a drawer with large drawer handles with horizontal pegs (that should be banned from all drawers on Earth). As I went to pick up my camera, I failed to notice the strap as it caught on the drawer handle, propelling it onto my carpet-covered concrete floor. After the clamor, I faintly heard Kyle shout at me into the sunroom, 'What are you doing out there?!' I just stared at the floor in utter disbelief of my clumsiness and examined the camera. It seemed fine at first inspection, and a sudden sense of relief washed over me. Until I realized the outer lens was jammed. And I couldn't turn it to zoom in and out.
Anger ensued…
I'm so dramatic.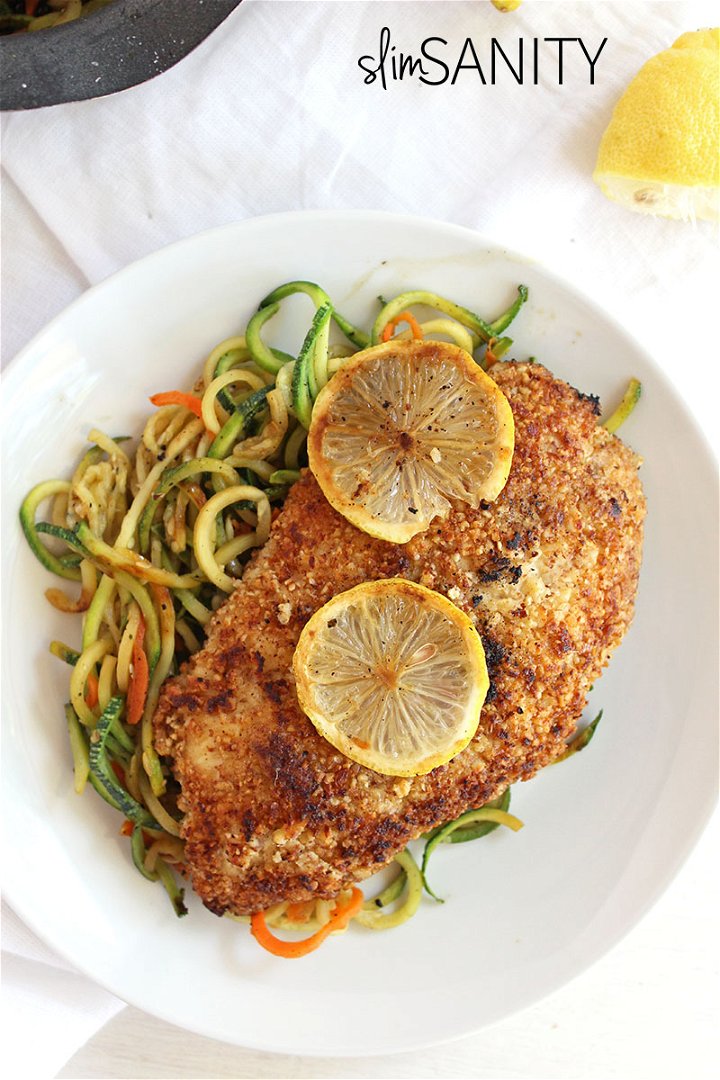 But seriously, it's gonna cost a pretty penny to replace if it can't be fixed. Luckily the camera itself seems to be in working condition. I don't even know how soon I'll be able to take my lens into a shop either since I won't make it during business hours until Saturday. I guess it was a good thing a couple of weekends ago, and I shot a healthy backlog of recipes to make up for the time I'm out of commission.
So today, I bring you almond crusted chicken with lemon zucchini noodles that is probably good enough to bring me out of my broken-camera-depressed state. At least temporarily!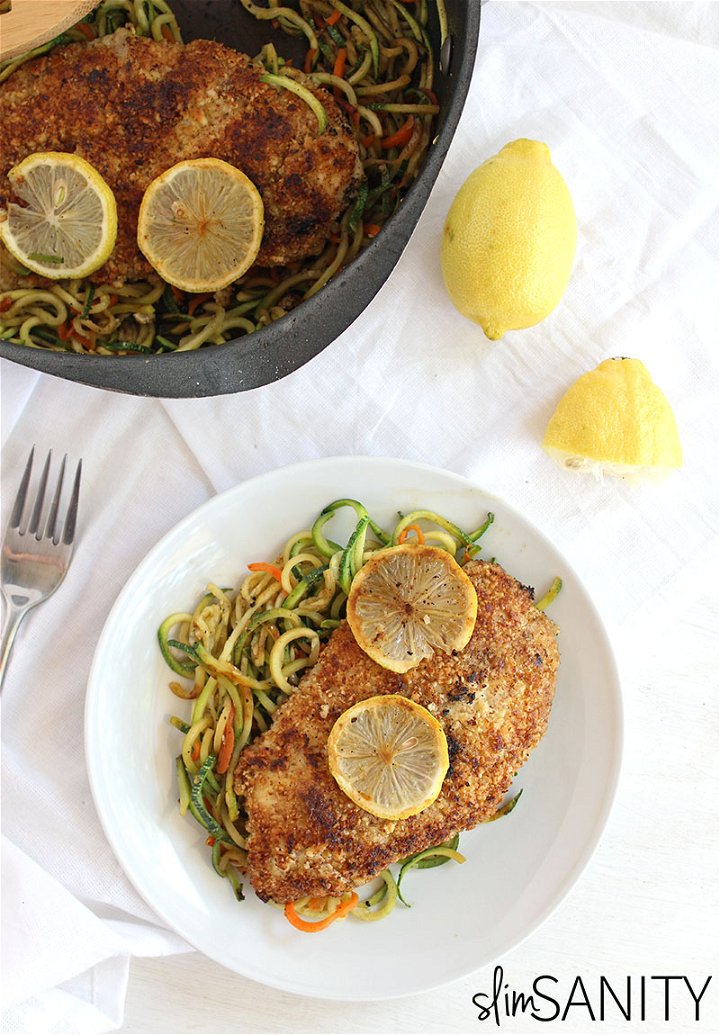 I was surprised at how quickly this dish was to prepare. You can make this entire dinner ensemble in 20 minutes! You seriously can't beat that for a healthy meal during the week. Cooking chicken in a skillet might be the best way to go. I always used to bake it in the oven if we didn't shred it in a crockpot, usually taking 35-40 minutes. Here I sliced the chicken breasts in half, tenderized them before coating in egg and almonds, then threw them (gently placed them) in a skillet for 5 minutes on each side. BAM! Gourmet chicken done in 10 minutes. Not mad about it.
Zoodles were just the obvious choice for a side dish. You can make them with this veggie spiralizer. Don't try using one of those handheld ones—they don't work as well. Use this spiralizer one instead! Since I was going for a chicken Parmesan feel minus the breadcrumbs…and the cheese…and the marinara…I replaced the noodles for something else. And added fresh lemon because it's my jam.
I think that's a great note to end on. Enjoy your dinner tonight, folks!
Love,
Butterfingers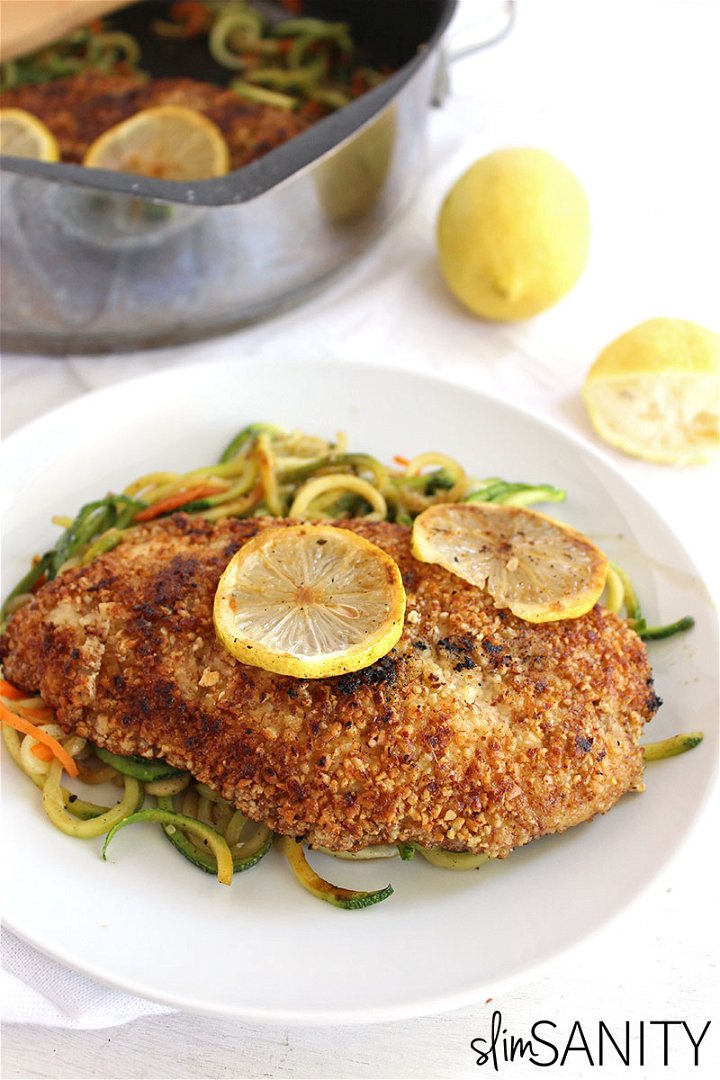 Print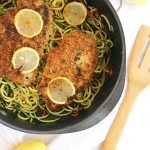 Almond Crusted Chicken With Lemon Zucchini Noodles
---
Author:

Total Time:

20 mins

Yield:

2

plates

1

x
Description
Almond crusted chicken with lemon zucchini noodles is a delicious dinner dish with a gourmet feel you can prepare in 20 minutes or less!
---
⅓ cup

almonds

1

–

10

oz chicken breast

1

egg

1 tablespoon

extra virgin olive oil

1

fresh lemon

2

zucchinis

2

carrots

¼ teaspoon

garlic salt
pepper to taste
---
Instructions
In a food processor or blender, process almonds until you have a powder/crumbs. Using a food processor, pulse about 30 seconds until almonds are broken down. Then process on high for another 60 seconds. Using the blender, you can probably process about 2 minutes until almonds are completely broken down.
Add almonds to a plate. Break the egg onto a second plate, and scramble.
Place a skillet over medium heat.
Cut the chicken breast in half by slicing it down the length of it. Using a tenderizer, pound out both sides of each half.
Take one chicken breast and coat completely in egg. Then, coat each side of the chicken in almonds. Repeat with the other chicken breast.
Add olive oil to the skillet and coat the bottom. Then add both chicken breasts. Cook for 5 minutes on one side, then flip.
While chicken is cooking, chop or spiralize zucchini and carrots. Slice the lemon in half. Cut one half into small slices.
Once chicken is done, set aside on a plate. Add vegetables to the skillet.
Squeeze half of the lemon onto the vegetables, and add the garlic salt and pepper. Stir until only slightly cooked down, about 2 minutes. Move noodles to one side of the skillet, and lightly brown the lemon slices on both sides, about 1 minute each side.
Dress plates with zucchini noodles, then almond crusted chicken. Garnish with lemon slices.
Remove zucchini noodles from heat onto a plate.
Prep Time:

5 mins

Cook Time:

15 mins

Category:

Dinner
Nutrition
Serving Size:

1 plate

Calories:

493

Sugar:

12 g

Sodium:

349 mg

Fat:

20 g

Saturated Fat:

3 g

Unsaturated Fat:

15 g

Trans Fat:

0

Carbohydrates:

22 g

Fiber:

7 g

Protein:

48 g

Cholesterol:

93 g