I've never been one to willingly give up carbs. Carbs as in grains. I just love them oh so dearly.
It looks like I'm not the only one who thinks cutting out grains could be bad.
Earlier this year, U.S. News ranked a long list of diets in several categories, including their weight-loss potential, for treating diabetes, heart-healthy, healthy eating, ease of following, etc. I didn't know this many different types of diets even existed.
Maybe that means I just follow the 'healthy eating' plan pretty well.
Well, guess what. Earlier this year, the Paleo diet was ranked last in the 'overall best diet' category. Something called the DASH diet was ranked first, which was one of those diets I hadn't heard of before.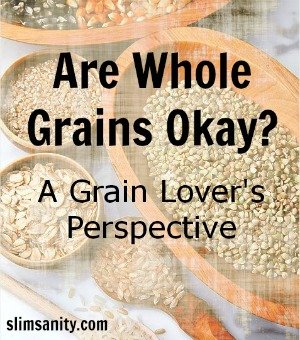 I can't say I'm really that surprised. I know a lot of people who swear by Paleo, but it doesn't appeal to me in the slightest. I've tried it before…and failed. It's actually easier for me to 'give up' cheese than grains. (Huh?) In an article written by Megan Moore, RD, she says
The diet plan is a fine choice for those who are willing and able to follow the strict guidelines that come along with it.
For the average American, or potential patient, I would not recommend it because of the inconvenience factors and the likelihood of non-compliance.
Well, that was pretty much me, spot on. Other RDs agree that eliminating entire food groups is bad. If you want to read more about the pros and cons of the Paleo diet, read the article here.
Let's come back to this DASH diet. It actually looks pretty similar to the 'healthy eating' diet I currently follow.
More details on the DASH Diet here
And guess what! On the DASH diet (healthy living diet), you eat grains!
What do grains do for you? (source)
Improved digestive health
Decreased risk of Diabetes Type 2
Lowers total overall cholesterol
Decreases risk of heart disease
I think that grains are a food group for a reason.
I'm all for people who want to choose different diets. Just remember, they aren't all for everyone. Paleo works for some people. Paleo also makes some people crazy, irrationally angry individuals without a good piece of toast once in a while. (That's me.)
Whole grains don't always have to be whole wheat. People who are gluten-free know this best. There are a ton of ways you can get your fill of grains without only eating sandwiches and pasta!
Common Whole Grains (see list source)
Barley (I have not cooked with barley, but you can check out a recipe round up here)
Corn – considered a grain by some, especially in the form of popcorn
Oats
Quinoa
Rice
Wheat – pasta, bread, English muffin, etc.
Wild Rice
All this being said, everything needs to be eaten in moderation. The balance of the fruits, vegetables, proteins, and dairy with grains are what makes an over all healthy diet.
I know there are tons of different opinions on this topic. I find it as another case of 'what works for you.' This is what I follow, and what I believe is the right diet for me. Maybe some of you too, but maybe not.
_
Tell me…
Do you eat grains? Have you ever tried the Paleo diet? What's your opinion on this topic?