I've been looking for some new breakfast ideas, and just bought some fresh blueberries yesterday. With that in mind, this morning I made (my first ever) muffins from scratch! I've even given you my recipe for WIAW. 🙂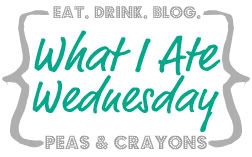 Breakfast
Today, I had a part paleo breakfast, along with one of my delicious homemade muffins.
Snacks!
I've been trying to snack on more veggies lately. Today's snack featured roasted chickpeas, but I've been getting in some good veggie and hummus combos!
roasted chick peas today
veggies I eat at home
veggies I eat out! Yes..I like carrots.
cucumber has also been showing up a lot lately
Lunch
Salads do me well at lunch time. They're light, and you get in a good couple servings of veggies and a protein. This one had iceberg lettuce, broccoli, cucumber, Feta cheese, and seasoned chicken.
Dinner
Dinner tonight might very well consist of one of my goodies I made this morning. Blueberry walnut muffins made with greek yogurt instead of vegetable oil!
Ingredients
1 1/2 cups of flour
3/4 cup of white sugar
1/2 teaspoon salt
2 teaspoons baking powder
6 oz plain greek yogurt
1/3 almond milk
1 whole egg
1 cup fresh blueberries
1/2 cup chopped walnuts
1/4 cup (or less) of brown sugar
Preparation
Preheat oven to 375 degrees. Add muffin cups to a muffin pan, and spray top of pan with a non-stick cooking spray.
Mix flour, white sugar, salt, and baking powder together. Add yogurt, almond milk, and egg. Stir until dry ingredients are mixed.
Fold in blueberries and walnuts. Spoon mixture into 12 muffin cups. 
Bake for 10 minutes. Remove from oven, and sprinkle brown sugar to the muffin tops. Bake for an additional 10-15 minutes.
Let sit for 10 minutes before taking muffins out of pan, then enjoy!
(Some of them I left without brown sugar on top.) I had one of these with breakfast today. I like to make muffins with yogurt instead of oil…it cuts down a little on the calories, and gives a thicker, more moist consistency of the muffin, which I like.
I think these will be showing up again in a snack very soon.