Happy Wednesday, friends! I feel like I've been in a bit of a recipe slump lately. So I tried extra hard to get some good stuff for you today. One good recipe, and a few decent pictures is what I scrounged up. I should have another few good recipes coming your way in the next week, so make sure you stay tuned! 🙂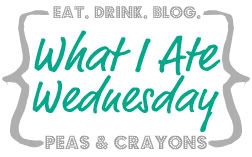 [breakfast] microwaved egg sandwich with spinach, grated Parmesan, and a cocoa zucchini muffin…check out the recipe below!
[morning snack] super yummy Blueberry Pineapple Protein Shake
blend the following:
– 1 cup unsweetened almond milk
– 1/3 cup blueberries
– 1/2 cup diced pineapple
– 3/4 scoop vanilla whey protein
– ice cubes to fill
[lunch or snacks] plain greek yogurt with vanilla whey protein, banana, and almonds
[dinner] toasted whole wheat bread with tuna salad, spinach, and avocado. Tuna salad was made mixing the following:
1 can tuna
1 teaspoon spicy brown mustard
chopped carrots
chopped red onion
copped radish
salt
pepper
These muffins surprised me at how healthy they were after I added up the ingredients into My Fitness Pal. About 90 calories per muffin! Although some of mine are pretty big, they rose a lot more than I expected and I made 11 muffins instead of 12. And then, that made me wish I had had some dark chocolate chips in the pantry…. because that would have made these phenomenal. 
Ingredients
1 1/2 cups whole wheat flour
1/2 cup unsweetened cocoa
1 teaspoon baking soda
1 teaspoon baking powder
1/2 teaspoon salt
4 packages truvia
1 tablespoon honey
1 1/2 cups grated zucchini
1 egg
1 egg white
2/3 cup Greek yogurt
1 teaspoon vanilla
1/2 mashed banana
5 tablespoons unsweetened almond milk
Preparation
Preheat oven to 350 degrees.
Mix dry ingredients in a bowl
In a separate bowl, mix wet ingredients (except almond milk) well. Gradually stir in wet ingredients. Add almond milk as needed.
Grease a muffin pan and add batter to 12 cups. Bake for 13-17 minutes, until a toothpick comes out clean.
These weren't super sweet, since I used very little sugar. I think more honey could be added, or put in some additions like chocolate chips or nuts to tailor them to the flavor you like. They had a good hint of cocoa though, which tasted surprisingly good with the egg shown up above. 
And you could always add a bit more zucchini! Get in some more servings of those veggies. 🙂