This weekend when we
went to The Old Monk
, I was in the mood for some wine. Until I saw their sangria options!
Any time you want to mix fruit and wine together, I'm in! This one was a mix of Sauvignon Blanc, peach, citrus, and was topped with a Spanish sparkling wine. Not a terrible sized serving for $6 out in Dallas, but it would be easy enough to duplicate it at home for much cheaper.
The beverage had a slight carbonation to it, and a faint peach flavor that was delicious! It went extraordinarily well with the
cheese tray we ordered
.
I think I'm going to give this one a shot at home soon!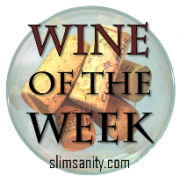 What wine have you discovered this week?
Next on my list will be the
Little Black Dress
 wines. I've had a few people ask me if I've tried it, I think I need to get on board!