Follow this blog with Bloglovin'
When a craving strikes, you've gotta do something about it. What was I craving, you ask? Pasta! This is no rare occasion. In fact, I frequently blow off my meal plan for a carbilicious dish of whole wheat thin spaghetti. Part of that might be from laziness when they're something more complicated on the menu… but I'm never mad after eating a bowl of pasta.
I eat pasta guilt-free because I make sure not to coat it in an over-sized serving of high fat-processed-something from a jar. And I'll typically throw in a side of lean protein. Today's recipe is a great substitute if you are a fan of those cream based pasta sauces!
Remember yesterday's roasted red pepper dip? As it turns out, it can easily double as a pasta sauce with just a few minor instructions. See below after the rest of my daily eats!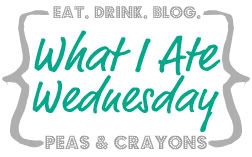 Here's what I ate Monday!
[breakfast] my favorite green smoothie with more blueberry than spinach [snacks] Green Giant veggie chips, baked sweet potato, and watermelon [lunch] whole wheat thin spaghetti with roasted red pepper sauce [dinner] spinach meatballs with brown rice and avocado [dessert] more watermelon and blueberries
Roasted Red Pepper Pasta Sauce
The full recipe of roasted red pepper dip will make 4 servings of pasta sauce. Find the dip recipe here https://slimsanity.com/2013/08/roasted-red-pepper-dip.html
Ingredients
1/4 cup to 1 cup roasted red pepper dip
1/4 cup to 1 cup unsweetened original almond milk
garlic salt
Instructions
In a saucepan over low heat, add roasted red pepper dip and equal amount of almond milk.
Stir until even consistency is obtained. Add a dash of garlic salt.
Heat completely through.
Add to pasta, and serve!
Courses Sauces & Seasoning