Follow my blog with Bloglovin'
I have made spaghetti squash a handful of times. Only in casseroles. I have never used it as a straight up substitute for pasta. I was skeptical. But I learned that with the right seasonings, it can be fan-freakin-tabulous!
Oh, by the way, this is the dinner that preceded it all…
You guessed it, I didn't eat this on Wednesday. Or any of the following delicious plates I fed to my face. But here they are anyways!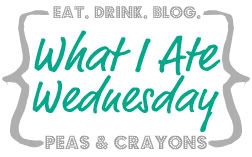 [breakfast] banana overnight oats with strawberries and almonds [snack] hard boiled eggs with avocado, no yolks! [lunch] ground beef with sauteed mushrooms, green pepper, red onion, and avocado
So, what are those magic seasonings that made this spaghetti squash so undesireable to me? Pesto! And lots of garlic. And a bit of salt!
Pesto Spaghetti Squash with Shrimp
Ingredients
1 medium sized spaghetti squash
30-35 cooked shrimp, thawed
20 cherry tomatoes, halved
1-2 cups spinach, chopped
½ orange bell pepper, diced
½ red bell pepper, diced
½ tomato, diced
15-20 spears asparagus, chopped
2 garlic cloves, minced
1 tablespoon EVOO
½ tablespoon butter
¼ cup pesto (we used Classico Traditional Basil)
¼ teaspoon cumin
½ teaspoon garlic salt
salt and pepper to taste
Instructions
Preheat oven to 400 degrees. Cut spaghetti squash in half, and scoop out seeds. Face down on a pan and bake for 30 minutes. Begin prepping veggies and thawing shrimp.
Once cooked, let cool. Shred and scoop the meat of the squash into a sauce pan.
Begin to saute asparagus in EVOO in a skillet over medium heat. (Asparagus takes a little longer than the rest of the veggies to cook.) Cook for 3-5 minutes. Add bell pepper, shrimp, garlic, and butter. Cook 3-5 minutes.
Put squash on low heat and mix in pesto. Keep warm.
Add spinach to shrimp and veggies and cook down. Add tomatoes and cook additional 1-2 minutes.
Serve shrimp and veggies over spaghetti squash.
One more thing before you go! I'm featured as a guest poster today on Nut Butter Runner. Be sure to stop by and see my post on healthy appetizer ideas!
Happy What I Ate Wednesday!