Follow this blog with Bloglovin'
Remember that mashed cauliflower I raved about last week? It's still hanging around in the fridge. It's also taking on different shapes (and possibly lives) of its own.
Let me introduce you to the Mashed Cauliflower Pancake!
Cauliflower pancakes were apparently calling our name for a dinner date. I was thinking about turning the mashed cauli into pancakes. And then 15 minutes later without me saying anything, Kyle was whipping up breakfast for dinner and served these delicious pancakes on my plate.
I think that Kyle and I are really meant to be.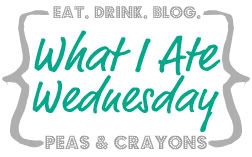 Want to see the rest of my eats last Wednesday?
[breakfast] two full sized blueberry protein muffins, one with peanut butter and one without
[lunch] veggie packed tuna with peas on top of whole wheat toast and Creamy Swiss The Laughing Cow
[random snacks throughout the day] Strawberry Chobani with vanilla protein powder and fruit, another muffin with PB, sandwich with chicken breast lunch meat and spinach, and mashed cauliflower with peas
[dinner] one egg over easy and a mashed cauliflower pancake on spinach
Mashed Cauliflower Pancakes
Ingredients
1.5 cups mashed cauliflower
1 egg
1/2 cup panko (more or less to achieve desired consistency)
EVOO
Instructions
Mix cauliflower, egg, and panko together until you get a sticky consistency.
Set a skillet on medium heat. Fry pancakes with EVOO, flipping after 2-3 minutes each side or until browned.
Serve!
How's that for easy? If you think these look delicious, you can also make them with pureed cauliflower!
Do you ever eat breakfast for dinner?