Follow this blog with Bloglovin'

Number one favorite type of food… GO!
Mexican. Hands down. I'll take a pinata full of quesadillas, please! What do I love about Mexican cuisine? The colors. The flavors. The chips. The cheese. How did I forget, the guac?! What's not to love?
Probably the calories. While I'll take a night out at Mi Cocina for dinner any day of the week, it's probably not the best option for me, seeing as how I admittedly don't have much portion control when it comes to Mexican. Don't get me wrong, I do splurge on occasion. But there are times when you have to find a healthier, portioned substitute for what you love to eat.
And this. One. Rocks.
Not to mention, that making your own Mexican cuisine at home will save a wad of dollars for your rainy day fund. Or wedding fund, whichever one you have at the moment!
Before we get to these bad boys, we're gonna play the What I Ate Wednesday game! Hosted by the beautiful Jenn who just had an even more beautiful baby girl! Congrats to her. 🙂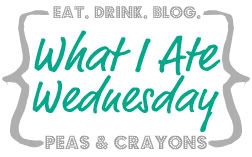 [breakfast] the usual veggie packed scramble with whole wheat toast and a Laughing Cow on the side, this particular scramble had spinach, mushrooms, and orange bell pepper [lunch] a less picturesque version of this salad, let's blame that on the extra Feta [snack] protein shake with strawberry, frozen banana, and vanilla protein powder[dinner] layered nachos (see recipe below) *unpictured snacks* half whole wheat bagel with PB, baked sweet potatoes
Layered Nachos
Ingredients
2 yellow corn tortillas (I use Missions Super Soft version)
3 oz cooked chicken breast, diced
2 tablespoons Greek yogurt
chili powder
garlic salt
1/2 cup black beans
1/4 cup salsa
1 teaspoon chicken broth
veggies to top
Instructions
Baked Tortilla Chips:
Set oven to a high broil. Cut tortillas in quarters. Spray (I use an olive oil non-stick cooking spray) a baking sheet, and layer tortillas on sheet. Spray tops of tortillas if desired.
Broil for 2-3 minutes, until sightly browned. Remove from oven to flip, and broil an additional 40-60 seconds. Remove from oven. Set aside and let cool. *Update* Best if let cool several hours, they get a better crispiness!
Chicken:
If you have it made, use the black bean chili chicken. I made a quick version without the black beans.
Dice chicken and add to a sauce pan. Stir in Greek yogurt, a generous shake of chili powder (or more if desired), and a shake of garlic salt.
Let warm, and remove from burner.
Beans:
This will probably make a little more than needed for one serving.
Add black beans, salsa, and chicken broth to a blender or magic bullet. Puree thouroughly.
Add to a small sauce pan, and heat through. Season again with chili powder and garlic salt if desired.
Courses Dinner, appetizer
Cuisine Mexican
Layer the nachos in the following order: chips, beans, chicken. Toss on veggies and eat!