Follow this blog with Bloglovin'
I love McDonald's just as much as the next person. I actually tend to prefer Whataburger over Micky D's, but trips to either one happen on very rare occasion. That doesn't mean I don't ever give in to my cravings for a burger and fries… and cravings for those actually happen quite often! You can easily make a delicious version of this favorite American dish at home by baking healthy french fries. Maybe not as easily as the drive-thru, but the little bit of prep is definitely worth it at the end of the meal!
First, let's have some What I Ate Wednesday fun!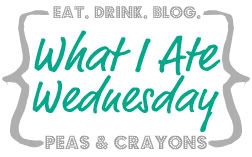 [breakfast]
pancakes made by blending 2 egg whites, 1/3 cup oats, 1/3 cup cottage cheese, and topped with half a banana, 1 tablespoon unsweetened coconut, and about 1/2 tablespoon drizzled honey
[snack] There has been a lot of cantaloupe making its way into my lunch bag lately!
[lunch] veggie packed tuna salad served with unpictured Wheat Things and a wedge of Laughing Cow Garlic & Herb cheese
[snack] Chobani for the win!
[dinner]
I made my black bean turkey burgers for this meal. I typically cook them on an electric skillet when I can't get to a grill. The skillet I have is the best non-stick surface I own for cooking, so just a little olive oil spray does the trick! I typically use 93/7 ground turkey or leaner. This burger was topped with avocado, red onion, and spinach on a whole wheat bun!
I used russet potatoes instead of sweet potatoes. I crave those every once in a while. For a long time, I thought white potatoes were BAD, and it took me a while to warm up to the thought of eating a sweet potato. Now, I love them both. The type of potato you eat isn't what makes it 'bad' for you. The two potatoes both have great nutritional benefits. It is the way they are prepared. Those sweet potato fries they have at Sonic aren't any better than the white potato fries at McDonald's. The fries I made were baked and broiled, not fried.
Healthy French Fries
Author:
Prep time:
Cook time:
Total time:
Ingredients
2 large Russet potatoes
1-2 tablespoons extra virgin olive oil (this is an estimate since we used a couple swirls from our bottle)
your favorite seasoning blend (we used salt, pepper, garlic powder, chili powder, & cumin)
Instructions
Preheat oven to 420 degrees.
Cut potatoes into 1/2 inch strips, and toss them with extra virgin olive oil and seasonings.
Spray a baking sheet with non-stick olive oil spray. Layer the potatoes.
Bake for 12 minutes, and flip. Bake another 12-15, until they begin to cook through.
Broil for 5 minutes to crisp.
I don't really like ketchup. It's just a bunch of sugar with artificial colors and additives. Instead, I blended 1/2 cup Greek yogurt with 1/2 an avocado with garlic powder, cilantro, and pepper to make a nutritious dip for my healthy fries!
And there you have my healthy version of a burger and fries! Much more delicious than a Big Mac too, I might add!
Are you a fan of sweet or white potatoes? Both?