Follow this blog with Bloglovin'

So, it's safe to say I'm busy after my conference. That, or I've just been too forgetful to take pictures of all my eats for you!
This week is a little skimpy on the picture side of my daily eats, but I did manage to get some pictures of my paleo cauliflower chicken casserole. This is a pretty popular one on the blog, and I wanted to make some updates to it.
Click here to see the recipe and nutritional information for this Paleo Cauliflower Chicken Casserole!
I also created the nutritional information for this dish. It serves 4. It may change a little bit depending on the type of bacon and chicken you use.
Alright, here is what I have for WIAW eats for y'all!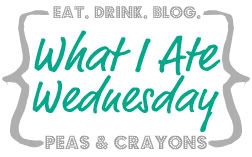 This was from last week sometime, but it was what I ate yesterday too! Veggie scramble with toast and hummus.
My only pictured snack was pineapple. I think I may have cut it a bit too soon, it didn't seem just quite ripe enough. Shame!
Lunch was a ground turkey, sauteed veggie, rice and black bean mix!
And dinner!
That's all I've got!
_
Tell me…
How do you know when a pineapple is ripe? What is your favorite fruit?