Follow this blog with Bloglovin'

Like I said on Sunday, I was so excited to make this flatbread! It's a restaurant recreation that was just amazing.
It didn't take very long to whip up either! About 20 minutes total, which is pretty darn quick when your hungry for pizza.
I can't decide what the best part about the pizza is. The avocado? The cheddar cheese? Maybe the BACON. I almost never buy bacon anymore, only for special recipe instances such as this. It was a fabulous little treat!
Wait, did I just say bacon was better than avocado? I think I'll take that back.
California Cobb Flatbread
Yield 8
A restaurant recreation from Gordon Biersch. This recipe creatively turns the original California Cobb Salad into a flatbread that you'll love!
Ingredients
1 cup whole wheat flour
1/2 packet instant yeast
1 tablespoon honey
1 cup hot water
1 cup shredded cheddar
4-6 oz shredded chicken
6-8 strips bacon, crumbled
1 avocado
1 Roma tomato
1 cup spinach, chopped
Extra virgin olive oil
Garlic salt
Basil
Instructions
Preheat oven to 425.
Make homemade whole wheat crust as instructed (see recipe link below!) or prepare you own.
Place crust in oven for 5 minutes to partially bake.
Remove and let cool a couple minutes, then brush extra virgin olive oil on crust. Sprinkle with garlic salt and basil.
Layer with cheddar cheese, chicken, and bacon.
Bake an additional 5-7 minutes until cheese is completely melted.
Let cool a couple minutes, and add Roma tomato, spinach and avocado.
Serve!
Notes
1 piece is 7 Weight Watchers points.
Courses Appetizer, Dinner
Cuisine Pizza
Nutrition Facts
Serving Size 1 piece
Amount Per Serving

Calories 272

% Daily Value

Total Fat 16 g

25%

Saturated Fat 3 g

15%

Unsaturated Fat 5 g

Cholesterol 46 mg

15%

Sodium 578 mg

24%

Total Carbohydrates 18 g

6%

Dietary Fiber 4 g

16%

Sugars 3 g

Protein 15 g

30%
* Percent Daily Values are based on a 2,000 calorie diet. Your daily values may be higher or lower depending on your calorie needs.
I made this flatbread as a double batch, but the recipe above is about what you'd need for a single batch. Maybe a little extra chicken and bacon. But that's not a bad way to go either. Cheese was also an estimate, but I think everyone likes a different amount of cheese on their pizzas anyhow!
I used my homemade whole wheat crust recipe for this flatbread.
And, just because it's been a while, how about a little What I Ate Wednesday for you!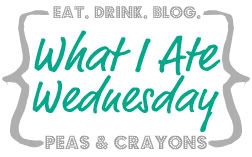 This has been on major repeat for breakfast the last couple of weeks. Yes, weeks! I Love my eggs and avocado I guess! With toast and ham.
I also have been doing a lot of chicken mixes for lunch. I was randomly craving peas the other day, and dumped in a serving with my chicken. Surprisingly delicious. So, it's been coming with me to work the last few days too! It's pictured with a banana, baby carrots, and homemade classic hummus made with jalapenos and spinach.
Unpictured are two cranberry muffins I enjoyed as a morning snack.
Dinner was leftovers of the wonderful flatbread pictured above!
My sweet tooth went away for a while, but has been back in action full force. In attempts to try and steer away from ice cream and other goodies, I put this concoction together and loved it. Unsweetened almond milk (I buy Silk brand, here's why) and a dropper full of NuNatural's Chocolate flavored liquid stevia. So delicious! I'm a big fan of NuNatural's products, you should definitely check them out.
_
Tell me…
Do you ever recreate meals from restaurants?