We've been through this before… I am no expert at web design. I know a little bit of HTML, which I became interested in once I popped in at Code It Pretty. But the bits of HTML I have learned could be useful for others too, so today I will share them with you!
No Follow Links
This is a big one if you are writing sponsored/paid posts. You can read all about that
here from Katy Widrick
. Adding the 'no follow' coding is super simple, which I got from a quick Google search. Add the blue bold part to your coding.
Want every new page to open in a new window? Use this:
This can help keep your reader's web browser less cluttered with 6 new pages opened if they get click happy on your post!
Social media links with picture resize
I originally found my social media buttons from
Carrie Loves
. They were free when I found them, but you can now find them in
her Etsy shop
for a small price. In any case, here is the coding I used for these:
red: where you want the button to send your reader
blue: source link for photo
green: adjust the picture size in your coding
In my widget, I have this set of coding lined one after the other for each social media button. I found out how to do the size adjustment, so that I could take the same coding to the footer of my site, but make the buttons smaller. This way I didn't have to go through and individually edit each picture in PhotoShop to the size I needed.
Making a 'Grab It' Button
It took me a little while to find this on the internet. Here is the code I enter to make my Wine of the Week Button, shown below!
red:
where the button goes
blue: image source from photobucket
**The first two links are code to show the button, and the second two are in the 'grab it' portion for your readers to copy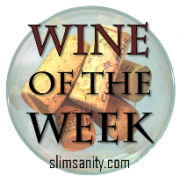 Well… that's it and that's all for today, folks! Don't forget to enter my
Chobani Bites giveaway
. Winner will be chosen on Tuesday, July 23rd!
Want More Blog Tips?
Check out these links for more blogging tips!
Have a fabulous Friday and a spectacular weekend!