Hello friends! I've got for you (mostly) what I ate
last
Wednesday. 🙂 Plus a super delicious dinner that could also be a lunch, snack, breakfast, or fourth meal. Because it's awesome.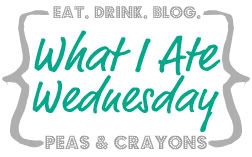 Please visit Peas & Crayons to see all the link ups!
7:30 AM: This is actually a recycled breakfast pic, but I've been on an egg scramble kick again, instead of the overnight oats and cereal that I had been noshing on for a while. This one has 4 egg whites, turkey sausage, red pepper, green pepper, red onion, and salsa. Ole!
9:00 AM: Once I've got things going in the lab at school, I sit down with some green tea and a Nature Valley granola bar. Usually to pump out a quick blog post, catch up on writing, or anything else that requires my computer.
11:00 AM: Morning snack #2 was a granny smith apple.
1:00 PM: This has been a popular lunch lately. I fits my budget and my taste buds love it. One can of tuna mixed with red onion, red pepper, green pepper, and a small bit of miracle whip, seasoned with pepper. I also like to throw black olives or carrots in there on occasion. My new favorite way to serve tuna salad is with  Thin Crisp Triscuits. 
3:00 PM: A serving of carrots with some roasted garlic hummus. Sometimes…I only eat the carrots for the hummus. 🙂
4:00 PM: Ok, I know I'm supposed to be eating as clean as I can, but when someone gifts you a no-bake chocolate oatmeal cookie, it's hard to say no. 
7:00 PM: The best grilled cheese I've ever made. Wanna create it? Keep reading!
Not that I think you guys need instructions on a grilled cheese, but it is a recipe. 🙂
Ingredients
two slices whole wheat bread
1/2 cup finely grated mozzarella cheese
1/4-1/2 avocado
1/4 cup thinly diced spinach
basil to taste
EVOO
Preparation
Set a skillet on medium heat.
Place cheese on one slice of bread, and top with spinach and sprinkle with basil. Layer slices of avocado on top, then sandwich with other slice of bread.
Once skillet is hot, drizzle EVOO and tilt the pan so that the bottom is covered. Place sandwich on skillet, and cook until each side is golden brown.
This grilled cheese has more nutrition than your average grilled cheese. Made with EVOO instead of butter, added avocado for omega-3s, and real mozzarella cheese – much better than those American cheese singles! 
Make this. Your taste buds will love you.