Follow my blog with Bloglovin'
It's no secret that I love breakfast tacos. Or that eggs are my favorite breakfast food. Today I've chose to instruct you on how to make the best breakfast taco (in my opinion)!
The Best Breakfast Tacos
What You Need
2-3 egg whites
lots of veggies to scramble (bell pepper, onion, asparagus, mushroom, & spinach are my favs)
Laughing Cow flavor of choice
2-3 corn tortillas
back beans, mozzarella, salsa, or your other choice of topping
salt and pepper as desired
What You Do
Saute veggies in a pan over medium heat. 
Once veggies are cooked, add egg whites. Cook and scramble together. Add pepper here if desired.
While eggs are cooking, put your corn tortillas in the microwave between two paper towels for 20 seconds. Remove from microwave and let cool 20-30 seconds.
Place corn tortillas on a plate and spread your choice of Laughing Cow.
Distribute eggs between tortillas.
Top with black beans, salsa, or your favorite topping for scrambled eggs!
Now let's get to What I Ate Wednesday Tuesday!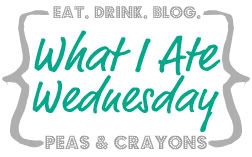 Breakfast Tacos
Creole seasoned pork ribs with roasted potatoes
Hope you all have a fabulous Wednesday! Now go make some breakfast tacos!